Private Architecture (oui oui non non)
Valérie Mannaerts
Limited edition: 10 copies + 2 AP
Gold plated brass.
Adornment entirely made by hand. Engraved words and ceramic tassels
Sculptor as much as painter, Belgian artist Valérie Mannaerts imagined for Les éditions Thalie, Private Architecture, an adornment inspired by the pre-Columbian pectoral jewel in the leaf cutout. A unique jewel linked to the artist's plastic universe: ornament and the whimsical. Private Architecture (oui oui non non) unfolds like a fan. Like a talisman, it reveals and protects with its ceramic amulets representing small ghosts or spoons as good lucks charms. A joyful and mysterious gem!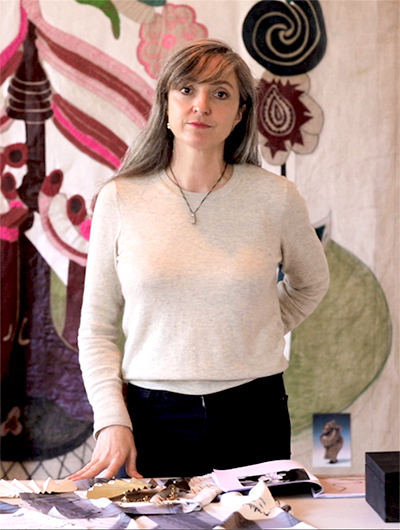 Valérie Mannaerts (1974) lives and works in Brussels. She was artist in residence at the ISCP New York (2008) and at De Rijksakademie, Amsterdam (2007). Valérie Mannaerts has participated in numerous exhibitions, including Huis Clos, Biennale de la peinture, Musée Roger Raveel (2020), Convex / Concave: Belgian Contemporary Art, TANK, Shanghai (2019), What is Ornament? Triennale d'Architecture, Lisbon (2019), Family Fiction, Extra City, Antwerp (2019), Curtain Call, IFFR Kunsthalle Rotterdam (2018), Real Somethings, Bernier / Eliades Galerie, Bruxelles (2017), Plain / Purl, Designmuseum, Ghent (2017), Arbalette, Maniera Bruxelles (2016), Solid Liquids, Kunsthalle Münster (2016); Everything Architecture, Bozar Brussels; Words aren't the Thing, CAC, Vilnius (2015); The Corner Show, Extra City, Antwerp (2015); Small Museum for the American Metaphor, RedCat Gallery, Los Angeles (2014), Real if I want to, Elisa Platteau Galerie, Brussels (2014); Orlando, Bozar, Brussels (2013).
Valérie Mannaerts is represented by Bernier/Eliades Gallery, Brussels & Athens.