Tote bag Florentine and Alexandre Lamarche-Ovize
Florentine & Alexandre Lamarche-Ovize
(Français)
En 100% coton demi natté écru 245 gr/m2 dimensions :
40 x 37 cm avec un soufflet de 10cm sangle de 40mm
Sérigraphie sur textile
Since its opening, the Foundation has commissioned several works that integrate the house. After Lionel Estève, Valérie Mannaerts, Alex Cecchetti, the foundation invites the artists duo Florentine and Alexandre Lamarche-Ovize to create a mural in the kitchen-dining room of the Foundation.
As an extension of this order, Florentine and Alexandre created a tote bag in the spirit of their mural work.
Frida, Mary and Élisabeth is a dialogue between the figures of Mary Blair, Frida Kahlo and Élisabeth Vigée Le Brun. Mary Blair and Frida Kahlo were often considered modest in their time and thus devalued: the former as an executor, the latter for her "intimist" formats and subjects, and Élisabeth Vigée Le Brun, Marie-Antoinette's official painter, often overshadowed in favour of Chardin and whose work has often been considered naïve.
Florentine and Alexandre propose, by taking up the motifs and themes of these three figures, to shed light on a sort of heritage, focusing as much on their painting practices as on the militant feminist positions that inhabited them, as on the incarnation of a discreet and effective seduction.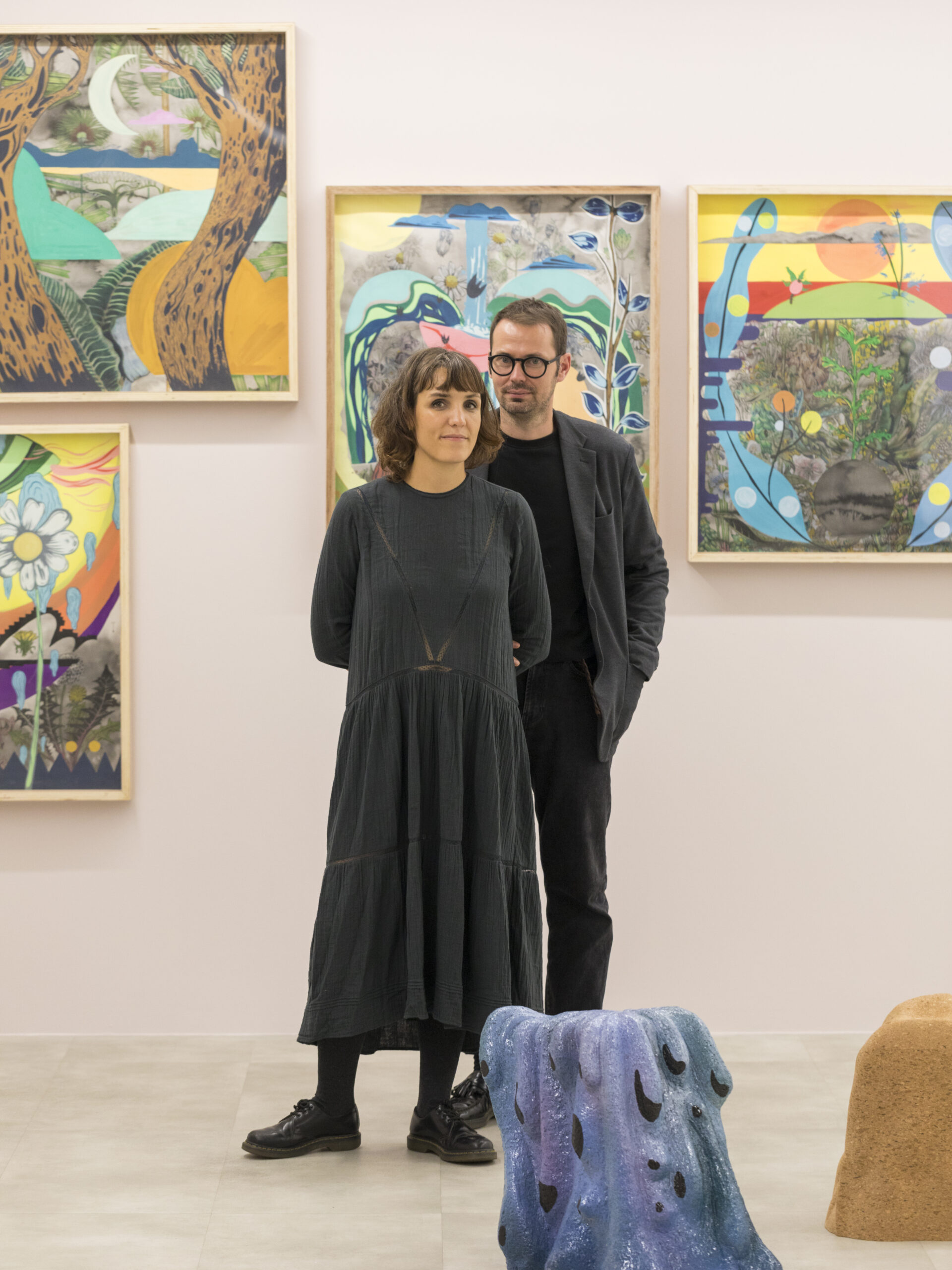 Florentine and Alexandre Lamarche-Ovize, born respectively in 1978 and 1980, live and work in Aubervilliers. Their practice mixes drawing and ceramics in the form of a visual language that reinvents and questions the academic subjects of art and its genres. Their work has been the subject of numerous solo exhibitions: Le Grand Café in Saint Nazaire in 2017, the Parc Saint Léger in Pougues-les-Eaux in 2017, the Drawing Lab in Paris in 2019 and currently at the Frac Normandie Caen. They are present in public collections such as the CNAP, Frac Pays de la Loire, Frac Midi-Pyrénées, at the Cité de la céramique in Sèvres, and in many art libraries.
Florentine and Alexandre Lamarche-Ovize are represented by Galerie Laurent Godin and Galerie Lefebvre & Fils